Bookeo News
February 23, 2012
New features
A new group of features has been introduced in recent days across our server regions.
All these features come from your suggestions, so a big thank you for your ideas!
Integration of prepaid packages and memberships
Many trainers and schools have actually suggested this very good idea. When a customer pays for his recurring membership (weekly, monthly, etc) Bookeo can now assign to his account a number of prepaid credits in different packages. For example you can offer to your gym members 2 free personal training hours per month as part of their gym subscription. Neat! For more information, see https://support.bookeo.com/hc/en-us/articles/360017920472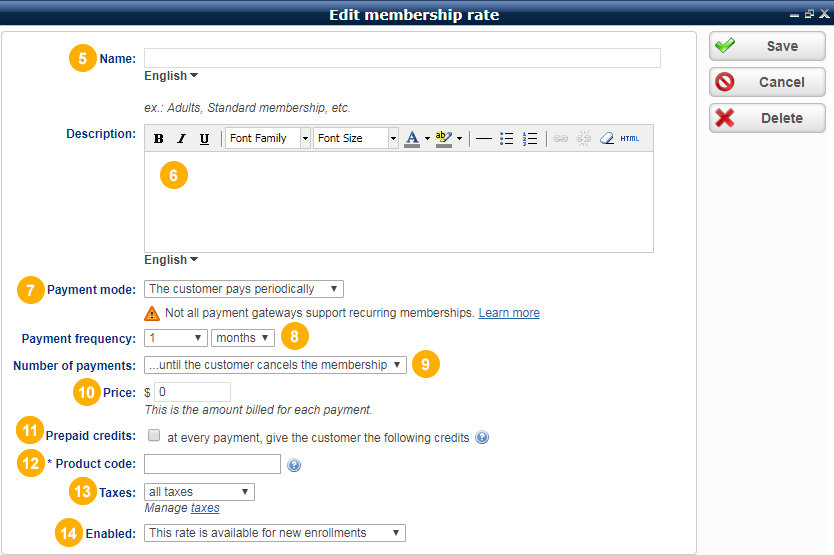 You can now hide prepaid packages, or make them available only to members
Sometimes you don't want to let everyone to purchase a prepaid package, but you want to assign it manually to selected customer, or only let members access it. Now you can! See the new 'Accessibility' settings for prepaid packages. https://support.bookeo.com/hc/en-us/articles/360017921612

You can now enable a 'pay later' option for customers that use a special promotion.
Very useful for tour operators who have many booking agents, with this feature now you can let your booking agents (and only them!) book without paying online. You can then use the existing promotion reports to invoice your agents every month for the bookings collected. This is the way most booking agents work in many tourist areas! For more about booking agents, see https://support.bookeo.com/hc/en-us/articles/360017920912-Booking-agents-tour-operators-tour-agencies-etc-
Now stricter checks to prevent duplicate records
After listening to many requests, we've finally slightly relaxed our privacy concerns, so that now Bookeo will prevent a customer to sign in twice with the same email address, creating duplicates in your customer database. This will keep your records more organized! And of course you can still merge customer records if the same person books using different names and email address.
Many users? Now less clicking
Now you can change user's permissions over all your classes, tours, workshops much faster. A new control lets you change permissions in block, with just two clicks.
More columns in your reports
The Booking report now contains more data, including total due and paid, gift voucher used, your custom booking status….
Filter your language(s)
Bookeo now supports 19 languages – and counting. You can let customers choose their preferred languages, but too many choices can quickly become confusing. No more! You can now decide which languages to make available to your customers, so that their choice is easier. In Canada for instance you may want to enable only English and French, in Switzerland only German, French and Italian, etc. For more information, see https://support.bookeo.com/hc/en-us/articles/360018198731-Can-I-set-a-language-for-my-Bookeo-back-end-and-a-different-language-s-for-my-booking-page-